to piggy-back off of my last long-winded post, i felt it necessary to drive home the point that it is possible to look good on a budget. oftentimes, we get so caught up with what everyone else is wearing and what they can "afford" (in quotes simply because, in the long run, you don't really know the dirt on people's finances) that we lose sight of what works for us, budget/personal preference/shape-wise.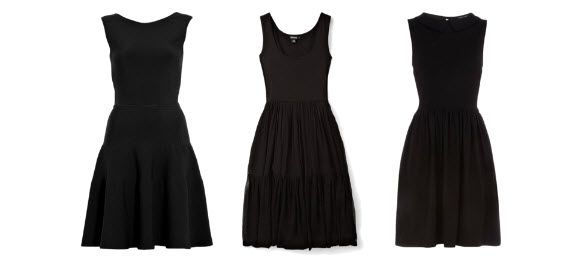 have all of those episodes of tyra comparing andré and veuve clicquot taught us nothing? sure, the flavor may not be aged to perfection in that $5 bottle of pink fizziness, but what i can say, without a doubt, is that your wardrobe doesn't need an expensive platform to thrive. see those black jersey dresses above? they all have very different price-points. can you tell me which is more expensive? probably not. the point i'm trying to make is that if you merely pay attention to the quality, you can find a great piece for $300 or $30.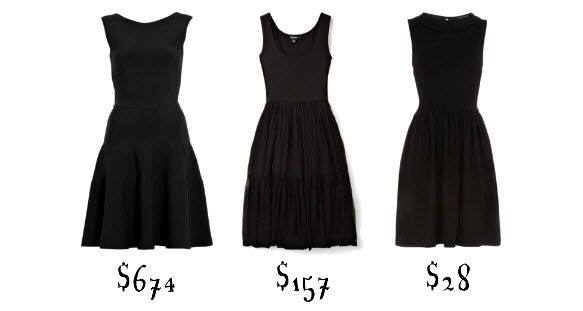 now do you see what i mean? sure, you'll have to experience the dresses in-person to view the material and its quality up-close, but all three are made of the same materials with the same shape. need further proof? two of my closest friends, jaimen and terra, are perfect examples of girls who turn it out in affordable wares. rarely will you see them wearing an outfit that costs more than $150 total. keeping that in mind, here are three simple questions to ask yourself the next time you're shopping:
did you check the seams? if they are open or fraying, chances are, they will continue to do so and you'll be left babysitting your skirt/shirt/dress in an effort to make sure it doesn't tear away without warning like you're the hulk.
how does it feel? this is a particularly important question for more affordable items. if it feels and looks cheap, people will know. (yes, all of what i've wrote is teaching you how to fool everyone into thinking you spent more.) 
what is it made out of? this is the #1 piece of advice i give to friends who spent most of their paychecks at forever21 and h&m. aim for natural fibers; they last longer, won't pill as much, and wear better on the body than blends.
have you made it this far? you read the entire post? you, my friend, are a champion.